10.05.2012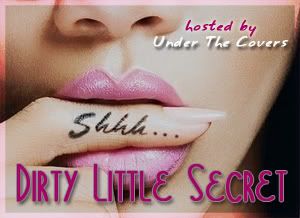 Dirty Little Secret is a weekly meme hosted by us at Under the Covers. Every Thursday we get to know other bloggers and our readers more intimately by asking them a question hoping to reveal their dirty little secrets. We hope that you will all join us!

To participate in the meme all you need to do is:

1. Be a follower of Under the Covers.
2. Create a post in your blog taking the meme image (code above) and copy instructions.
3. Answer the question we propose! This can be done in any way you like, post a video, write a post etc.
4. Then add your link below.
Question of the Week
"We've heard a rumor that Ryan Seacrest is using Fifty Shades of Grey as a manual in the bedroom. What book would you give a guy to study up on?"
What! Just one choice! That doesn't seem right hehe
But I guess If I only pick one... I would pick the Sinners on Tour series. Sure it isn't just one book, but I am greedy :P
The guys sure know how to work it in these reads. I can't wait for the third in the series, can bet on it being hot!
My oh my! Would you look at that cover!